Wedad Abdelrahman Travelling Fellowship Report 2016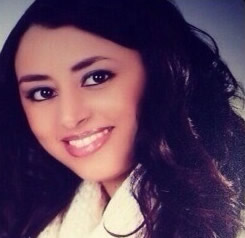 I was awarded the IAD travel fellowship to attend the '16th Dubai World Dermatology & Laser Conference and Exhibition in conjunction with the 5th Continental Congress of Dermatology', held between 12-14 April 2016 at the Dubai International Convention and Exhibition Centre in the beautiful city of Dubai, United Arab Emirates. This was my first time attending this well-known international congress and indeed proved an excellent experience.
Dubai Derma was attended by many Dermatologists across the world including the Middle East, USA, Australia, Africa, Europe, Russia and India. It was a valuable opportunity to learn from experts across several continents. I attended a great talk by Prof. John McGrath on Genetic skin diseases where I learnt about rare disorders such as Olmsted syndrome, Goltz syndrome, ectodermal dysplasia, bullous dermolysis of the new-born. Cosmetic Dermatology is part of the UK training curriculum, but can be quite difficult to gain experience in depending on locality. I took the opportunity to attend talks by experts in the field of Cosmetic Dermatology and learnt about different types of chemical peels, the important points in history taking prior to considering this as a mode of treatment in any patient as well as the importance of good skin conditioning prior to treatment and post peel management. Interestingly, the application of pulsed dye laser to the nail bed, matrix and fold was demonstrated by a group of Dermatologists in Egypt to improve nail psoriasis with an objective reduction in the NAPSI score. This was a new learning experience for me. It was fascinating to hear of alternative treatment options considered for treatment of Acne vulgaris in pregnant or breast feeding females who were not candidates for oral Istoretinoin therapy, these included the use of PDT in India and chemical peel combination in Egyptian patients. Prof. Dedee Murrell gave a presentation on new immunobullous diseases and one topic covered which was of particular interest to me was the development of bullous pemphigoid in psoriatic plaques, I had come across similar cases in our department. I also learnt about the first biological agent Bertilimumab for use in bullous pemphigoid as well as the importance of a thorough drug history in patients who present with blistering conditions specifically enquiring about over the counter preparations such as detoxification treatments which may include chlorophyll which in turn can induce pseudoporphyria.
Several excellent cases were presented by trainees from the Middle East, France, Egypt, Ethiopia, Tunisia including cases of eccrine angiomatous hamartoma, re-activation of cutaneous leishmaniasis during treatment with Infliximab for rheumatoid arthritis, mercury poisoning in an infant, epitheloid sarcoma, Job syndrome, juvenile mycosis fungoides and Griscelli syndrome type 3 to name a few. I presented two cases of clinical interest- 'A blistering new-born' and 'Actinic prurigo in a 12 year old successfully treated with Hydroxychloroquine therapy', as well as an audit I carried out with my senior colleague Dr Donal O'Kane under the supervision of Dr Keith Armstrong in 2012 (Royal Victoria Hospital, Northern Ireland) on the management of bullous pemphigoid. It was a great experience to present in front of a huge cohort of experts.
I am very grateful to the IAD for awarding me with this travel fellowship. This was a memorable learning experience and an excellent opportunity to meet and learn from Dermatologists across the world, attending this conference has indeed broadened my horizons.
Wedad Abdelrahman
Specialist registrar
Belfast, Northern Ireland
« Back to Latest News