EADV Fellow scholarships
2018 EADV Fellow scholarship recipient Dr Ahmet Uğur Atilan
When I learned that an EADV fellow would be elected to participate in the Irish Association of Dermatologist's autumn meeting with an IAD scholarship, I was very excited about the idea of getting together with my Irish colleagues at such a wonderful meeting.
I can't describe my pleasure when I got the news that I was awarded for the scholarship. I was amazed by the excellent scientific content of the meeting as well as warmth and delicateness of everyone. The meeting made me feel at home.
I am grateful to the IAD for giving this opportunity to meet my excellent colleagues and the lovely Irish people. It was an important step that broadens my horizons for my career. I believe that the connections I have established at this meeting will continue to increase.
---
2017 EADV Fellow scholarship recipient Dr Nataliia Zhovta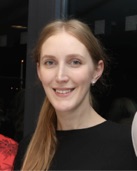 I want to thank IAD and EADV for receiving a travel grant for IAD autumn meeting. That was my first time in Ireland and I will remember such a beautiful country with very warm feelings. It is worth saying about the organization of the meeting. Even from the e-mails prior to my arrival I felt very friendly and supportive attitude on behalf of the organizers (special gratitude and appreciation to Ms. Jacqui Carroll, IAD event director).
The conference was focused mainly on very specific topics, that were filled with practical aspects. The registar session showed the great potential of young specialists with excellent case presentations and research works.
It was a great pleasure to be a part of that cozy dermatologic community during those days.
As the first young specialist representing Eastern Europe who received the travel grant I will strongly recommend everybody to apply for this scholarship and use the chance of visiting this incredible country and attend such an excellent assembly!