Travel Scholarships
Irish Association of Dermatology Scholarship - Summer 2019
Travel Scholarship Report: Dr Angela Alani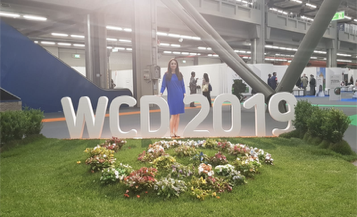 I am very grateful to the Irish Association of Dermatologists who have kindly awarded me this travel fellowship to attend the 24th World Congress of Dermatology in Milan, June 2019. This World Congress provides a unique opportunity for dermatologists around the world to come together every 4 years to share their clinical experiences and scientific advances on both a professional and personal level.
The congress was held in one of the largest conference facilities in Europe holding in excess of 16,000+ delegates. This was my first time at the congress and I was very excited to see such a rich mix of medical advances in dermatology ranging from clinical practice to research, technology and innovation. The programme was well organised and catered for the full spectrum of dermatological sub-specialties.
Delegates benefitted from regular email and World Congress of Dermatology 2019 app updates which provided information on meeting news, symposium highlights and breaking research. As I am interested in skin cancer, surgery, dermoscopy and medical dermatology, I focussed my attention on these sessions and attended pre-booked courses. I learnt a great deal during this Congress and felt inspired over the course of the five days.
In particular, I really enjoyed the session on advanced dermatological surgery which included talks by various specialists from across the globe including Argentina, Brazil, Germany, the Netherlands, Switzerland and the United States. These talks were very engaging and examined various difficult surgical closures along anatomical locations such as the nose, eyelids, eyebrows and ears. These sessions also considered surgical complications which I found very practical and informative.
As my own day-to-day practice involves regular usage of the dermoscope, I found Dr Giuseppe Argenziano discussion about "Can a dermatologist practice without dermoscopy" extremely useful. As dermatologists we have become very dependent on this valuable tool in diagnosing and differentiating lesions. Dr Argenziano provided an insight into how he identifies specific diagnostic patterns based on the distribution of colour in combination with various key dermatological structures to help distinguish between benign and malignant skin lesions.
Additionally, I also enjoyed the Teledermatology session which provided a glimpse into the future of dermatology with Dr Philipp Tschandi speaking about the applications of Artificial Intelligence. Artificial Intelligence is an evolving new area in lesion analysis and recognition using Convoluted Neural Networks (CNNs) for the early recognition of skin cancer and early detection of fast-growing melanomas.
Another interactive session was the management of skin cancer in immunosuppressed patients which was co-chaired by Prof Proby, who presented a talk on topical therapy for skin cancer in the context of immunosuppression. Other talks during this session focussed on systemic therapies, prevention and prophylaxis of skin cancer which were highly engaging and allowed for panel discussion and audience questions with input from learning specialists on their approach.
Overall, this was a fantastic trip and I left Milan full of inspiration and interest. I would like to thank the Irish Association of Dermatologists for awarding me this scholarship and making this learning experience possible.
---
2019 IAD Travel Scholarship Recipients
Dr Angela Alani
Dr Roisin Hambly
Dr Eilis NicDhonncha
Dr Muriel Sadlier
---
Dr Wedad Abdelrahman IAD Travel Scholarship recipient 2018

I was awarded the IAD scholarship to attend an international course on laser and energy based devices organised by the European Society of Laser Dermatology (ESLD). I have a keen interest in use of lasers in dermatological practice- attending this course proved an excellent experience and was indeed a great opportunity to learn from and network with experts (Dr Hans-Joachim Laubach and Dr Ashraf Badawi, president and vice-president of the ESLD) in the field of laser use in dermatological conditions.
The course kicked off by covering classification of lasers, different chromophores, laser physics and fundamentals of laser safety including the importance of eye protection for both the operator and the patient, skin cooling and measures relating to room set up which must be taken into consideration such as avoiding reflective surfaces and flammable materials for cleaning etc. The importance of informed consent and taking photographs pre and post procedure were also highlighted- this is of utmost importance when dealing with patient complaints.
Throughout the course and as a group we discussed several case scenarios together and with help from course instructors I learnt the importance of observing for an end-point which is ultimately what will determine a change in parameter setting when treating for example vascular lesions or when using laser for hair removal. This is pivotal in order to ensure effective treatment is delivered with minimal adverse effects. The course also covered how ablative lasers can be used to treat scars and the different types of ablation that can be used- this was interesting as I had not had much knowledge in using laser for this indication before but with outstanding before and after results, I learnt how rewarding this can be.
Dealing with complications and complaints is challenging and can indeed be a stressful experience. Injuries stemming from cutaneous laser surgery were discussed with examples from experts highlighting how vital it is to have sound knowledge of laser safety, indications for different devices, written informed consent and being able to recognise over-treatment.
I am very grateful to the IAD for rewarding me with this travel fellowship and providing me with an excellent opportunity to attend this course organised by ESLD which has indeed enhanced my knowledge on laser and broadened my horizons
Wedad Abdelrahman
Dr Eimear Gilhooley IAD Travel Scholarship recipient 2018
I was awarded the IAD Travelling fellowship 2018 which afforded me the opportunity to undertake a 2 week clinical observership at St John's Institute, London. During this time, I attended a wide variety of general dermatology and specialist outpatient clinics across the Guy's and St Thomas' hospital campuses. These included specialist lymphoma, immunobullous, urticaria and hidradenitis suppurativa clinics. I encountered a number of interesting and challenging cases across these specialities, and I was fortunate to gain exposure to the rarer spectrum of cutaneous disease. The Consultants were very generous with their time and were excellent teachers; readily sharing their experience and perspectives.
I was fortunate to attend a number of dermatopathology sessions, gaining invaluable exposure to less common histopathological presentations which had been referred to the centre for specialist opinion. Furthermore, I was able to attend a number of multidisciplinary meetings including lymphoma and skin cancer, and weekly dermatology grand rounds and teaching sessions.
Also, I gained an important insight into the functioning of the NHS, electronic patient record and coding systems. Exposure to this different health system was beneficial and informative; I was able to draw a number of contrasts and comparisons between both systems.
My experience in St John's Institute was really positive, I saw a number of very interesting cases and learned a lot. I would to thank the Irish Association of Dermatologists for awarding me the travelling fellowship in support of my observership. And also to thank the Consultants, trainees and nurses in St John's Institute who contributed greatly to my learning and enjoyment of the observership.
Dr Aoibheann Flynn IAD Travel Scholarship recipient 2018
My IAD scholarship took me on two trips to London at the start of the year. The first was to attend the Royal Society of Medicine clinicopathological meeting. The morning symposium was titled 'Vulval disease for the general dermatologist'. This was extremely informative, with renowned speakers across the speciality discussing common conditions including lymphoedema, pigmentation, lichen scerlosus and lichen planus. Eduardo Colonje gave a fantastic talk on the pitfalls of genital histology, reminding us how varied it may be and the importance of clinicopathological correlation. Professor Creighton gave an insightful presentation on the global endemic of female genital mutilation, the growing trends of genital cosmetic surgery and how to manage patients with disorders of sexual development. The afternoon session at the RSM was the clinicopathological meeting, which never fails to captivate interest from attendees, stimulating fantastic discussion amongst experts. I had the opportunity to present two clinical cases from Ireland. Other cases presented in the afternoon included leprosy, heliotropic granuloma annulare, bullous dermatomyositis and porokeratosis psychotropica.
My second trip to London was to attend the renowned ABC Dermatopathology course at Guy's Hospital. This course was organised after a 4-year hiatus and I was delighted to hear it was back on. There were both dermatology and pathology trainees in attendance from across the globe. The venue was the Gordon Museum of Pathology; a beautiful historic building in the heart of London, filled with over 8000 collections. The three days covered a plethora of dermatopathology, while at the same time kept to basic principles and clinically relevant cases. Dr Christina Stefanato was fantastic, with her artistic description of skin pathology keeping us all entertained and making pathology seem easy. Needless to say, as an Italian created the course, the culinary experience was equally impressive. Topics covered included inflammatory dermatoses, vasculitis, adnexal tumours, granulomatous inflammation and infections. Each session was followed by a clinicopathological vignette, where we voted on the correct diagnosis electronically using our phones. This kept the course interactive and clinically relevant. It was a relief to know that at times the pathology trainees also found the histology challenging! Participating in this course has enhanced my dermatopathology knowledge, in formulating the basics of dermatopathology and mirroring these findings to the clinical setting. Dermatopathology plays an integral role in our practice, often leading the diagnosis and management for our patients. I would highly recommend this course to any dermatology trainee.
As Irish speciality registrars, we are fortunate to have such fantastic educational meetings close to home. I would like to thank the IAD for the travel scholarship, which gave me the opportunity to travel to London for these two training events.
Aoibheann Flynn
Specialist Registrar
South Infirmary Victoria University Hospital