Dr Aizuri Murad IAD Travelling Fellowship Report 2016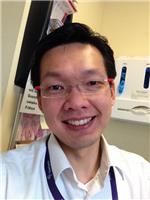 Dr Aizuri Murad, MBBS, MRCS, MRCP
Dermatology Specialist Registrar, Dublin. Ireland.
I was awarded the IAD Travelling fellowship 2016 which facilitated my work experience at the Cleveland Clinic in dermatologic surgery and cutaneous oncology. I spent most of the time in main campus at Cleveland Clinic learning various techniques in dermatological surgery and laser.
I was introduced to their computerized medical record system and coding classifications for patients who attended a Mohs procedure. A typical working day started just after 7 am. Patients scheduled for Mohs surgery would be seen by the surgical fellows: assessed, consented, have their lesions marked and anaesthetised in preparation for the first layer. Approximately 5-7 cases were carried out in the morning and closures were mostly performed in-house. In addition, there were a few shared complex cases which required closure by the plastic surgeons. Cases in the afternoon were mainly wide local excisions and laser surgery. I was directly involved in a substantial number of Mohs cases with interpretation of frozen sectioned histopathology slides closely supervised by the Mohs surgeons and fellows during this period. I have learned various techniques of complex tissue reconstructions and wound closures.
Apart from surgery, I also participated in the alopecia clinic which was very educational and certainly had increased my interest in this area. I attended the weekly dermato-pathology teaching sessions and medical grand rounds for the residents.
Finally, I would like to thank the Irish Association of Dermatologists for awarding me the travelling fellowship in support of my invaluable experience in Cleveland Clinic. A special thanks also goes out to all the Mohs surgeons, surgical fellows and especially Dr Vidimos for sharing the pearls in micrographic surgery along with their kindness throughout my stay there.
« Back to Latest News