Prof Sarah Rogers
Professor Sarah Rogers MD FRCPI FRCP, BAMod MPhil.
The death has occurred of our much loved colleague and friend Professor Sarah Rogers.
https://rip.ie/death-notice/dr.-sarah-rogers-donnybrook-dublin/535357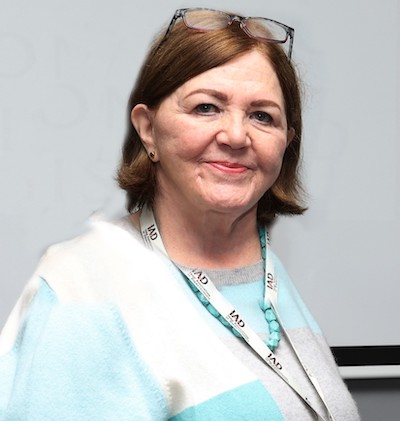 Sarah qualified from the RCSI in 1968. After house jobs in St Lawrence's hospital in Dublin she obtained her MRCPI in 1971. She commenced Dermatology in Leeds in 1971 and worked as both a Senior House Officer and Registrar there under the tutelage of Dr Rowell and Dr Cunliffe. She subsequently became a Senior Registrar in Belfast with Professor Desmond Burrows. In 1976, she went to the Royal Victoria Hospital in Newcastle on Tyne where she worked as a honorary Senior Registrar for Dr Janet Marks and Professor Sam Shuster. Her research there was on a Medical Research Council funded clinical trial comparing PUVA to dithranol for psoriasis. The results of this trial were published in the Lancet and she also obtained an MSc.
In 1979, Sarah returned to Dublin to commence a Consultant Dermatologist post at the City of Dublin Skin and Cancer Hospital, Hume Street and St Vincent's University Hospital. She was one of the first female consultants in Ireland. With her great friend and colleague, Matron Maeve Dwyer, she set up a Day Care unit in Hume Street for the treatment of psoriasis and in conjunction with the excellent nursing staff there, maintained a fantastic standard of care in this unit.
Sarah was a wonderful clinician, who had great empathy with her patients and was an internationally recognised expert in the management of psoriasis. She participated in clinical trials of new therapies and also conceived and managed multiple clinical studies which informed and continue to inform the optimal management of psoriasis worldwide.
She was a skilled and kind mentor, inspiring dozens of dermatologists in whom she instilled the importance of clinical research and imparted so much knowledge about all aspects of dermatology and life. She published widely in peer reviewed journals with more than 150 Pubmed quoted publications. She received her doctorate of medicine (MD) from the NUI in 2002 for her published work. The Rogers prize awarded annually by the Irish Association of Dermatologists is a recognition of her passion for Dermatology research.
Sarah's busy life in Dermatology included membership of multiple Dermatology societies and she was past President of the Irish Association of Dermatologists, the Dowling Club and past board member of the EADV to mention a few. Whilst a board member of the EADV, she in particular promoted the importance of nursing and nursing education in Dermatology.
Sarah was a social being and was enormous fun. She had a great curiosity in all the people that she met. Her enthusiasm for life in all its guises was infectious and inspirational, not least in the face of personal tragedy, having lost her beloved son Daragh in 2017. She possessed that rare gift of defying the absurdity of life by living it to the absolute fullest while leaving everyone she met along the way feeling elevated.
Sarah had multiple interests outside of work especially music and choral singing. She was a long-term member of Our Lady's Choral Society and in the months leading up to Christmas she could be heard singing Handel's Messiah in clinics as the annual performances in the National Concert Hall approached.
After her retirement, Sarah continued to attend Dermatology meetings and was a regular participant in Irish dermatology life, continuing to attend the RSM and Dowling club meetings. She also pursued her interest in Latin and the classics. She did her Leaving Certificate in Latin, completed a 2:1 degree in Latin in Dublin University, Trinity College and just this year was awarded an MPhil. Her thesis was entitled "Psoriasis in antiquity".
Sarah's untimely death has been a great shock to all that knew her. She was close to so many people and everybody has a "Sarah Rogers" humourous and sometimes outrageous story.
She leaves behind a rich legacy of a massive contribution to Irish and international dermatology and a store of great tales which are worthy of a book.
Sarah will be sorely missed by her husband Mike, daughter Etáin, her brother Tom, her close friend Maeve and a raft of dermatologists, patients, friends and acquaintances.
Semper Desiderari.
If you would like to leave your remembrance of Professor Rogers please use the form below:
Rememberance
I am deeply saddened and shocked by Sarah's sudden death. It was an honour to know her and a privilege to be her former registrar and friend. Sarah was enormously fun and extremely funny. She was the life and soul of the party; I was looking forward to our usual lunch at the BAD meeting. Sarah was an outstanding mentor and inspired me both in my own academic career and to mentor others. The weeknights Sarah gave of her own time looking at proofs of academic papers in Ely Place will never be forgotten. All of us who were lucky enough to work with her remained friends. To Mike, Etain, and to the late Daragh: Sarah was one in a million and a very special person. Thank you Sarah.
- Deirdre Buckley
---
Sarah was a force of nature, she leaves a great legacy, my greatest sympathies to Mike Etáin and Tom
- Gillian Murphy
---
Dear Etáin and family, I am so sorry on the loss of your mum. I was lucky enough to cross paths with your mum back in our school days and again when I became interested in a career in dermatology. Sending my deepest sympathies.
- Berbie Byrne
---
Sarah and I crossed paths often. She was a warm, wonderful and very insightful person with a generous spirit, as well as a great dermatologist. I am truly sorry to learn of her passing.
- Ruth Murphy
---
To Mike and Etain, I am so terribly sorry to hear of Sarah's passing. I met Sarah and Mike in 2017 through unfortunate circumstances. As a result I struck up a friendship. I loved her sense of humor and zeal for life. She had a quiet way about her and were I understood what was then important to me. I will always remember her. Myself , Carol and the kids, hope this finds its way to you Mike and Etain and that you are doing okay.
- Peter Mullins
---
I was so so sad to hear of Dr Sarah Rogers passing only heard it today would you believe by a friend of hers at the Curragh Races She looked after me for yrs in Hume St we had a great relationship in Hume st I cannot believe she has passed RIP Dr Rogers May You Rest In Peace
- Rita Sheridan
---
Very sorry to hear about Professor Roger I meet her back in 2002 and few times throughout the years excellent Doctor and teacher an incredible human being. May she RIP.
- Arwa Shuhaibar
---
I was a patient of Dr Rogers in Hume Street and she was most attentive to me when I attended her clinic and in the Skin and Cancer Hospital. I also had the opportunity to hear her speak at a public lecture on Psoriasis Care. I'm sure that her skill and experience is sorely missed.
- Gerard Kennedy