SkinSideOut - Public Health Event, Saturday 16th November, Science Gallery, TCD, Dublin
A first-of-its-kind skin public health event for those living with skin conditions
SkinSideOut, a first-of-its-kind skin health event for the Irish Skin Foundation (ISF) and indeed for people affected by a wide range of chronic inflammatory skin conditions in Ireland, will take place on Saturday 16th November, from 11am – 4pm, in the Science Gallery, Trinity College Dublin.
SkinSideOut is open to all members of the public struggling to manage the everyday challenges of living with skin disease. This full day event will include a series of talks and panel discussions given by expert medical speakers and patient advocates covering six topics – Atopic Eczema; Psoriasis; Acne & Rosacea; Consumer; Skin Cancer Prevention – in five sessions throughout the day.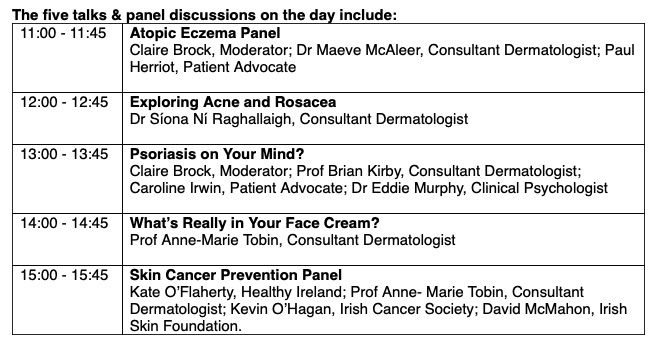 Breakout social spaces will be provided following the eczema and psoriasis panel discussions for those who want to meet and exchange experiences with others living with these common skin conditions. Throughout the day, the public will have an exciting opportunity to speak with skin care brands exhibiting at SkinSideOut, about their product ranges available for managing different skin problems. Each SkinSideOut attendee will receive a gift bag of select skincare product.
SkinSideOut promises to be an unmissable event, so we advise people to get their ticket well in advance to avoid disappointment. To ensure access, all talks and panels will be ticketed separately. Registration fee is €5 per talk per person.
Tickets are available via Eventbrite at: https://www.eventbrite.ie/e/skinsideout-skin-health-event-tickets-70744150659 For further information about the Irish Skin Foundation and SkinSideOut visit: www.irishskin.ie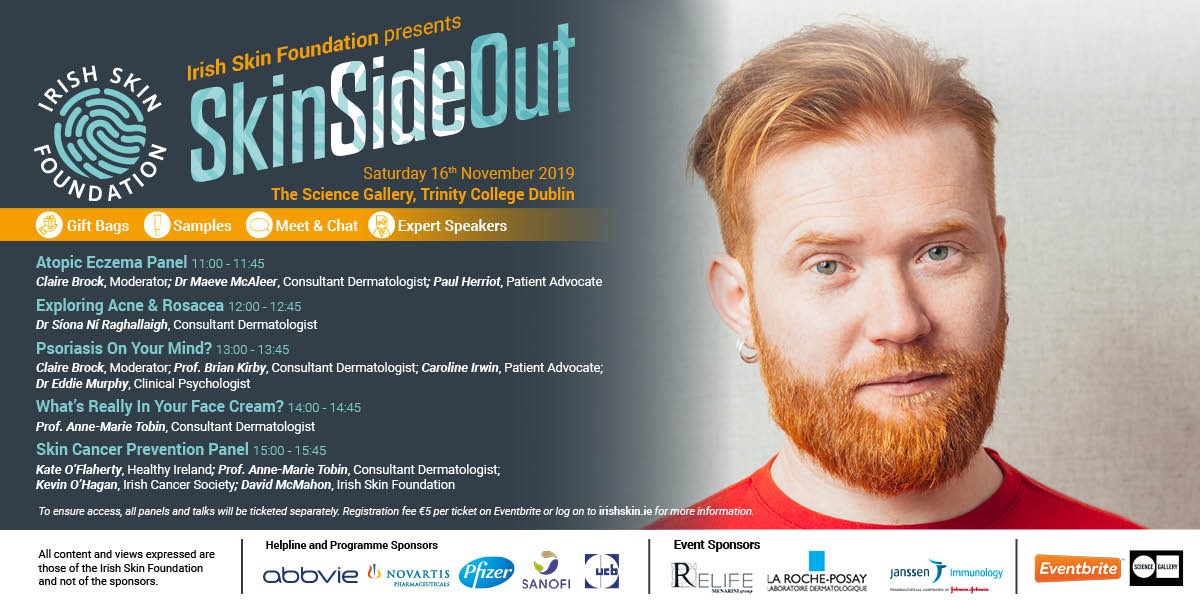 « Back to Latest News