Travel Scholarships
IAD Travel Fellowships
Closing date 30th November annually
All trainee members and consultants within 3 years of appointment are eligible to apply.
Four scholarships @ £1,000 available each year.
---
IAD Travel Report: Stephanie Bowe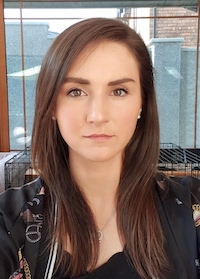 I was very grateful to receive the IAD travel scholarship in 2023 to attend the American Association of Dermatology meeting. It was held in New Orleans, Louisiana. This is one of the largest dermatology meetings globally and a wide range of topics were discussed. There was an incredible line-up of international speakers and multiple educational sessions ran in parallel.
On Friday, the first day of the conference I attended the vitiligo session which discussed the various presentations of vitiligo in both children and adults, as well as their implications for prognosis and management. All current treatments were discussed including medical and surgical interventions as well as their relative efficacy and limitations. The speakers I particularly enjoyed included Dr. Hamzavi and Dr. Grimes.
The second session I attended that day was 'The pregnant pause: How to evaluate and treat your pregnant patients' which I found very useful clinically and extremely interesting. Dr. Strober gave a lecture about treatment for those pregnant patients with psoriasis, Dr. Grant-Kels spoke about the evaluation and management of nevi and melanoma in the pregnant patient and Dr. Keri spoke about the management of acne in pregnant patients. I found the treatment of psoriasis in pregnant patients extremely useful as we have had several pregnant patients with psoriasis who have attended the dermatology in the Mater Hospital in recent months. Our patients were often discussed at the maternal medicine MDT as there were various considerations regarding their particular therapy, trimester and postpartum vaccination for their infants.
On Saturday the 18th of March I attended the psoriasis session. These highly relevant lectures included discussions exploring which biologic therapy was most suitable for the various presentations of psoriasis and what patient factors may affect physician's choices. Dr. Stober also lectured in this session and I enjoyed the talks given by Dr. Lebwohl and Dr. Elewski.
After these lectures I enjoyed meeting colleagues from other dermatology departments in Ireland and watched Ireland's victory over England in the rugby match that day. It was lovely to meet colleagues from Northern Ireland too.
On Sunday a conference highlight was the Plenary session which included talks from Mr. Schiller, PhD regarding 'The Road to Single Dose HPV Vaccines' and from Dr. Gallo who spoke about 'Human Skin Commensal Microbes for Bacteriotherapy of Atopic Dermatitis'. These discussions focused on their research over the last number of years and how it could impact clinical practice in dermatology.
On Monday 20th of March I attended the melanoma session which discussed the changing landscape of early-stage melanoma management. One topic I found particularly interesting as it differs from routine care in Ireland, was the talk about genetic testing which is offered to some patients in the USA. Dr. Chu and Dr. Hartman spoke about this. They did address that this is still in its' infancy however, as it cannot accurately be used for prognosis and cannot direct future treatment.
The lectures on Tuesday 21st of March covered a broad range of topics which included: inflammatory skin diseases, cutaneous malignancy, cosmetic dermatology, paediatric dermatology, topical therapy and dermatopathology. I found the content really informative and it was really beneficial to attend lectures given by experts in their field such as: Dr. Cockerell, Dr. Stein Gold and Dr. Desai.
The following week I gave an 'Updates from the AAD' lecture at the Mater Dermatology Department journal club and discussed some of these topics with my colleagues. I found the AAD really useful to my clinical practice and I would again like to thank the IAD for giving me the opportunity to attend it.
---
IAD Travel Report Dr Laoise Griffin, Reflectance Confocal Training in Rome 2022
I was honoured and grateful to receive the IAD travel scholarship in April 2022 which allowed me to attend the Expert Training in Confocal Laser Scanning Microscopy Course in Sapienza University in Rome. This was a great opportunity for me to further my interest in skin cancer care and dermatology diagnostics and to meet medical professionals from all over the world who are using the reflectance confocal microscope (RCM) in dermatology.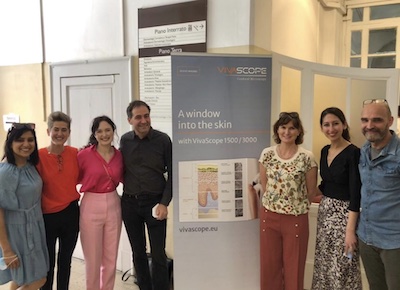 In photo left to right: Nurse Amrit Kaur, Dr Laoise Griffin, Dr Marion Leahy, Prof Giovanni Pelicanni, Prof Mary Laing, Dr Lidia Shafik, Dr Marco Ardgiò.
RCM is a non-invasive laser scanning device which allows a virtual biopsy of the skin and facilitates horizontal examination of the epidermis and dermis at a quasi-histological cellular resolution without injury or pain to the patient. I have been fortunate to work in a department with the first RCM in clinical practice in the south of Ireland and this afforded me the opportunity to learn the basics in image capture, interpretation, and use of the RCM in clinical practice. Subsequently the department of dermatology, Galway University Hospital have been successful in establishing an RCM in their department and increasing both opportunities and the number of people trained in its' use. I travelled to Rome with colleagues from dermatology from Galway. The course in Rome solidified my prior experience and advanced my knowledge in the field.
This was a 3-day course and the first day reviewed the principles of RCM where the refractile index of materials was discussed and attention was drawn to the bright nature of substances such as melanin by world experts in this area, Professors Caterina Longo and Giovanni Pellacani. We reviewed the new improved scanning device which can capture images much faster reducing contact time with the patients. We quickly moved on the diagnosis of melanocytic tumours and melanoma mimics. The benefit of the device for such diagnostic purposes as an add on tool was stressed especially in cosmetically sensitive areas. This is something that we have found in clinical practice.
Use of the device in illustrating the normal skin aging process was them explored. This focussed on identifying solar elastosis, epidermal thickness and how this may be used in research but also as possibly as a tool to motivate and educate patients re photoprotection, especially those in high risk, vulnerable groups.
The use of RCM in inflammatory conditions has become much more advanced and was the focus of the day two. Dr Marco Ardigò, a world leader in this area, illustrated pattern analysis for inflammatory skin diseases and of particular interest was the study of the hair follicle. As this is a non-invasive device and takes images in a horizontal plane it is well suited to horizontal examination inflammatory processes. He spoke about characterising the depth of inflammation and the future potential to characterise the causes of scarring alopecia without need for invasive biopsies. He also spoke of the possibility in the future to be able to establish response to treatment and level of activity of frontal hair conditions thus facilitating treatment decisions using the device which can be a challenging area in practice.
RCM is being increasing explored in the field of psoriasis where hyperkeratosis and acanthosis in association with papillary vessel dilation can be identified in images. We spoke of being able to non-invasively monitor a patient's early response to a biologic by repeated imaging the same site and measuring epidermal thickness which is easier to do on the newer devices. This may be useful for personalisation of medical treatment of psoriasis and early treatment decisions and predictions.
Prof Longo gave excellent descriptions of the different types of BCCs and how RCM can be very useful for use in difficult clinical situations such as BCC recurrences, correctly identifying scar tissue versus morphoeic BCCs and interpretation of lesions that have been partially treated (e.g. post cryotherapy). These uses were especially beneficial on facial skin where cosmetic function is important and surgical morbidity is high. Pitfalls were also discussed and limitations of use on ulcerated or highly keratinised tumours addresses.
We finished by being taught about the new handheld device and how it can be uses to map and diagnose lentigo maligna.
Overall, this was a fantastic trip and I left Rome full of inspiration and knowledge. I would like to thank the Irish Association of Dermatologists for awarding me this scholarship and making this learning experience possible.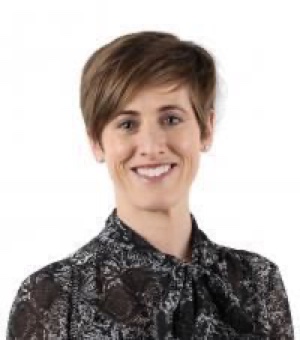 ---
Dr Cathal O'Connor
IAD Travel Scholarship Recipient 2020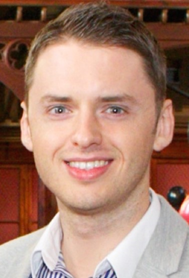 I was honoured to receive the IAD travel scholarship which allowed me to attend the inaugural world congress on epidermolysis bullosa (EB), held in London in January 2020. This global meeting sought to bring together world leaders in EB research and clinical management, as well as the EB community, to develop strategies for healthcare, research, regulatory, and funding communities.
The meeting, led by local dermatologist Prof Jemima Mellerio and Prof Jouni Uitto, was held over four days, with the first two days exploring scientific progress in EB, and the final two days focusing on clinical aspects and outcomes.
On day one, updates were presented on classification, challenges, inflammation and fibrosis, cancer, and therapeutics in EB. Prof Cristina Has discussed the 2019 updated classification system, highlighting novel mutations with characteristic phenotypes. Other interesting talks discussed the important role of Il-4 in fibrosis and the poor diversity of the microbiome in EB.
Day two delved deeper into the basic science of EB, with cutting edges updates on techniques involving complex cellular and genetic manipulation. Novel cellular strategies included viral vectors, stem cells, and fibroblasts. Genetic advances included RNA sequencing and CRISPR gene editing.
On day three, the focus returned to clinical care, with a focus on the management of extracutaneous features of EB, as well as management of pain and itch. I was particularly interested to hear about a new topical antimicrobial enzyme system (GLG), which promises to evade antimicrobial resistance.
Day four incorporated involvement from patients and families with EB. Themes included participation in clinical trials, quality of life, and other updates in clinical care.
It was a pleasure to meet Dr Rosemarie Watson, Dr Fiona Browne, and several of the Irish EB nurses at the conference. Time was also spent catching up with various Irish dermatology trainees based in London and hearing about their clinical and research endeavours.
Many thanks again to the IAD for awarding me this scholarship and making the opportunity possible.
Dr Cathal O'Connor
---
REPORT FOR IRISH ASSOCIATION OF DERMATOLOGISTS
DELIVERY OF OUTREACH CLINICS IN MALAWI FOR PEOPLE WITH ALBINISM
Background
Standing Voice (SV) is a London based charity with offices in Tanzania and Malawi that works to tackle the social exclusion of people with albinism in Sub Saharan Africa. Albinism is twenty times more common in these regions than in Europe. In addition to discrimination, they suffer premature skin cancer which can be fatal in the second or third decade of their lives.
SV have been delivering healthcare, education, advocacy, and community programmes to thousands of people with albinism (PWA) in Tanzania since 2013. In 2016, following a sabbatical in Malawi, myself and my wife and Practice Manager of Edenpark Medical, Carol O'Dea, decided to partner with SV with a view to extending the SV programme to Malawi.
The goal was to provide PWA in Malawi with a skin cancer prevention and treatment program as a first step to introducing SV's holistic approach to the care of PWA. The program started in October 2016 in the Mangochi region of Malawi with 4 outreach clinics. Since then, it has expanded and now reaches nearly 1500 PWA through a network of 38 clinics in 10 districts. In 2018 Mr Bonface Massah, a prominent figure in the albinism community and a Human Rights Commissioner in Malawi was appointed as our Country Manager. He is supported by an Assistant Program Manager and two further administrative staff. Volunteers from the Association of Persons with Albinism in Malawi (APAM) also assist in clinic delivery.
The clinical program is supported by the two consultant dermatologists in Malawi. Drs Kelvin Mponda and Esther Mazumara attend some of our clinics and training days and supervise surgery in addition to being the only dermatologists for a population of 17 million people.
Our model is to partner with the Ministry of Health so that ultimately the program becomes part of government policy. Currently the Ministry of Health supplies the venues for us to hold our clinics, they release the dermatology officers to staff the clinics, they provide transport to collect patients and also have agreed to ensure a regular supply of sunscreen.
We were worried when COVID hit in 2020 and we had to cancel a planned trip to Malawi. However rather than cancel the clinics we decided that the Malawi based team would conduct the clinics and any surgery that was required. This was always in our long-term plan but COVID accelerated and brought this forward. It was fantastic to see the Malawi team seize this opportunity and for two years they ran the clinics without any physical presence from the London or Dublin office. All our mentoring was done remotely. The involvement of the teams in Dublin and London is principally to organize the program and to fundraise. Visits by the European team aim to ensure program quality, to establish clinics in new, previously unreached areas and to train both administrative and clinical staff.
Until 2020 all data collected was on paper forms. In 2021 we launched a CommCare system and now all data is entered directly onto a tablet in electronic form. This has revolutionized not only data collection but also our ability to use the data more effectively. The process of transferring all the data from clinics going back to 2016 is underway and once complete we plan toto use it to improvethe program and also to publish some of our results. It will also facilitate research going forwards.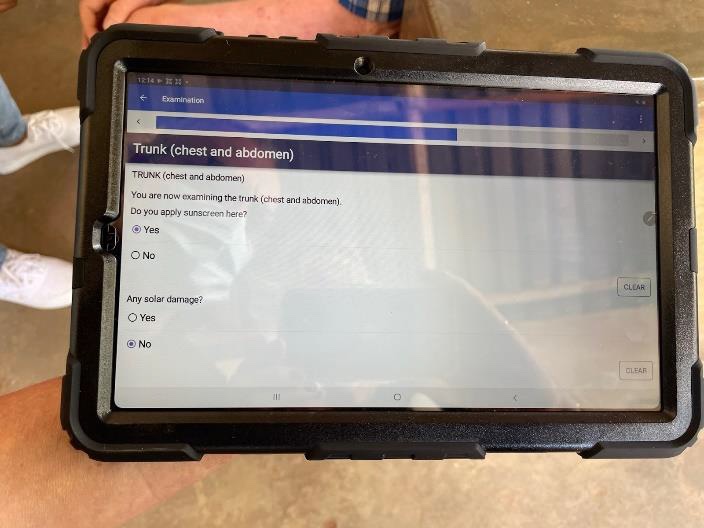 The visit to Malawi in April was planned last autumn, the schedule of clinics, training and surgery days was finalised. Carol and I were travelling because we were delivering clinics in 3 areas previously not reached by our program.
The first clinics were in the outskirts of Blantyre, Malawi's second city and home to the Queen Elizabeth Hospital and the College of Medicine. The dermatology Department at Queens is led by Dr Kelvin Mponda and he is assisted by several Dermatology Officers. We then travelled South to the Mulanje and Phalombe districts.
We have preparations for the trips well-rehearsed but the few weeks leading up to departure day are hectic.
In addition to our personal packing, we always use our full luggage allowance to bring additional supplies. We have struggled to source appropriate hats in Malawi and usually pack around 23Kg of assorted hats to bring with us to distribute during our clinics. Surgical instruments for dermatological surgery don't exist in the district hospitals in which we work, and so disposable instrument packs are packed into two other bags along with sutures and other disposables. The remaining bag contains our work clothes, scrubs and snack foods for the long clinic days.
Training
Our first day in the field was a training day. This was attended by 25 clinicians and included:
Clinical officers (Clinicians, who have 4 years medical education, who deliver the majority of healthcare in Malawi)
Dermatology officers (Clinical officers who have attended a 2 year specialist training course at the RDTC in Tanzania,
Nurses
Medical Assistants (Clinicians, who have two years medical education, who assist the Clinical officers and staff many of the very rural health centres)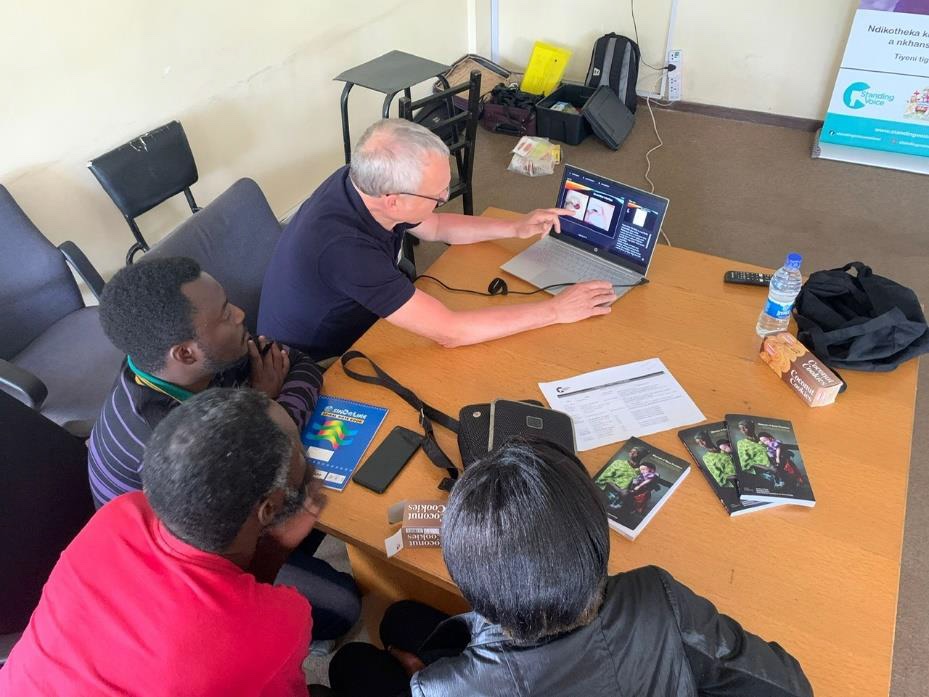 The training provided is a blend of PowerPoint, role play and hands on training. The content of the training is based on the "Manual of Best Practice. Skin Cancer Prevention and Management for Persons with Albinism in Sub-Saharan Africa'' published by SV, edited by Dr Andrew Sharp and to which I contributed several chapters. The daylong training aims to cover the genetics of albinism, signs of sun damage, diagnosis of early skin cancer and the vital importance of prevention. The workshops show the way a clinic is set up with education, examination and distribution areas, how to correctly apply sunscreen, how to perform a skin examination and where relevant cryotherapy and the techniques of punch and excision biopsy. Training days are always dependent on the facility we are in. Some have better equipment than others electricity can be a problem and we have to be inventive. We used apples this time to demonstrate cryotherapy and used foam to practice skins suturing. It never quite goes according to plan, but we have found that the practical sessions are most popular and rewarding.
Training of administrative staff sometimes runs in parallel with the clinical training when moving to a new area, but this training had already been conducted by our Malawian team.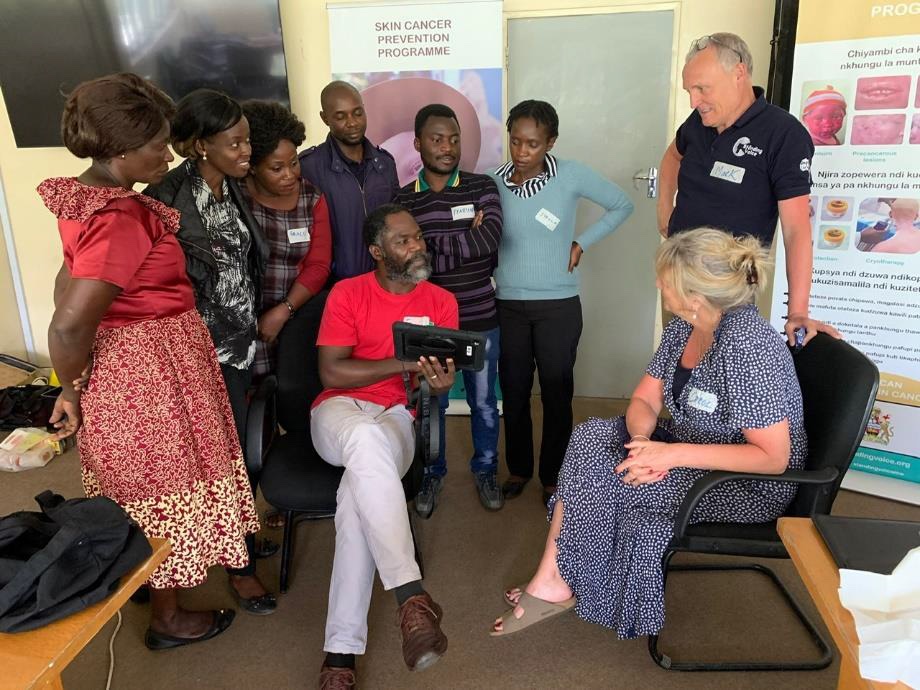 Clinics
Over the next 10 days we delivered nine skin cancer clinics.
SV delivers a skin cancer prevention program by providing outreach clinics every 6 months. The clinics are conducted in mainly rural health centres in an area served by a district hospital.
The SV team in Malawi with the help of APAM (Association of People with Albinism in Malawi) advertise the clinics in advance to encourage attendance. They also visit the village chiefs and the District Medical Officers to get official approval and to make sure everything runs smoothly. PWA are attacked for their body parts, and many are apprehensive about travelling outside their immediate areas in case of attack. For this reason, we also meet with the local police to let them know clinic locations and dates. They often send a police officer to the clinic as security.
In the morning the team loaded the vehicle with sunscreen, refreshments for the attendees, medical equipment and liquid nitrogen. We then head off to the clinic sites which are usually in remote, rural areas reached by dusty, bumpy untarred roads. These journeys typically take between 40 minutes and an hour and a half.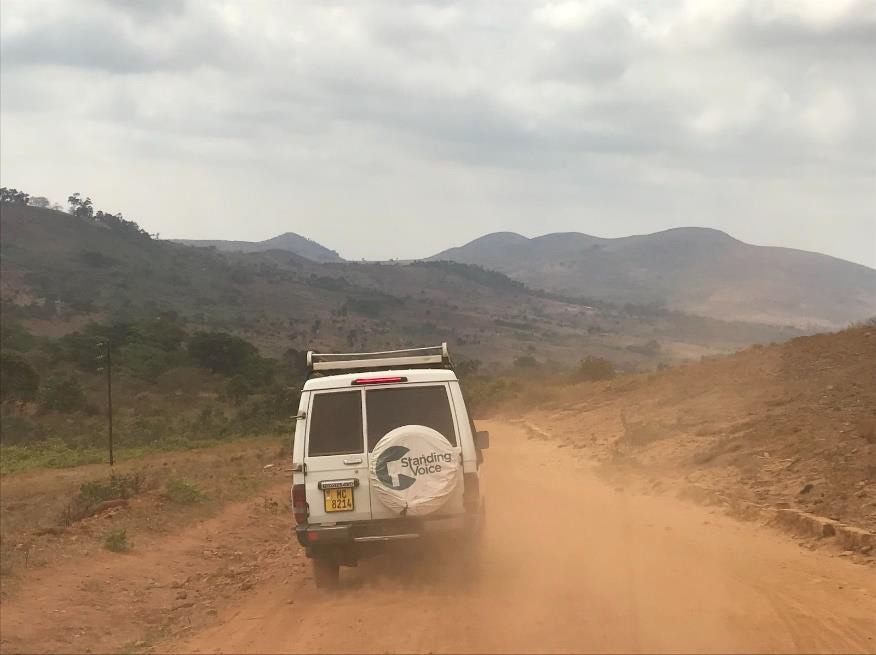 On arrival the clinic is set up. This can be challenging due to the poor condition of many of the health centres we use. Running water is often not available and clinic rooms are often filled with broken medical equipment and are often dusty and dirty. Many have very little furniture. Once rooms have been cleared and cleaned the areas for education, clinical examination and distribution are then set up as best we can.
People with albinism attending the clinic often arrive quite early in the morning by foot or by bicycle. Sometimes they walk for an hour and a half. The Ministry of Health ambulance is also used to collect patients from surrounding villages.
The registration of new and returning patients begins as people arrive. Some patients are illiterate, and many do not know their dates of birth. This represents a challenge in terms of accurate record keeping. The introduction of the CommCare software on tablets which incorporate a patient photo has improved accuracy in this area.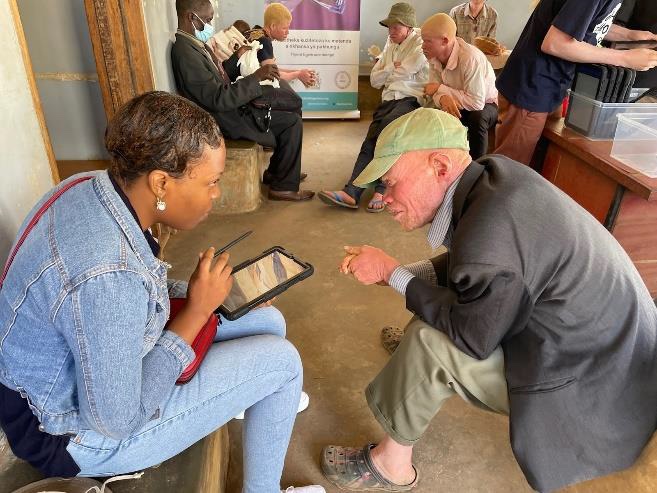 When the first patients have been registered and enough people have arrived the educational session begins. General health literacy in rural areas is poor and knowledge of Albinism can be limited or inaccurate. The education typically lasts 30 minutes and tries to address these deficits. It is delivered in Chichewa the local language except in some areas East of the lake where it is conducted in Yao the language more commonly spoken in that area.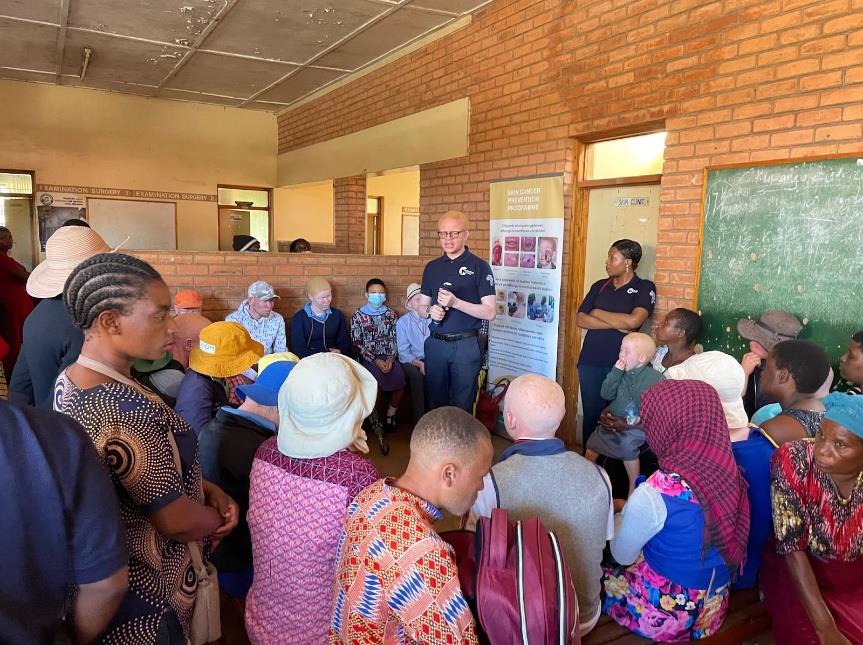 During the education session, attendees learn about the cause of albinism and the genetic factors to try to dispel the myths around this condition. They are shown photos of sunburn, actinic keratosis and skin cancers and advised not to ignore non healing wounds on their skin. They receive education about prevention such as changing behaviour, the wearing of appropriate clothing and hats and the use of sunscreen. The presenter demonstrates the correct method of applying sunscreen to help ensure good coverage while not wasting any. Malawians love to chatter and laugh, and the sessions are usually lively with people answering and asking questions. Frequently a person with albinism stands up and gives a "testimonial" describing their life with albinism and the effect of the program. On this occasion we were fortunate to have the first Malawian Policeman with Albinism stationed in one of the areas in which we were working. He had a fascinating life story and was a passionate speaker. He attended several clinics and encouraged PWA that they can succeed in life and to have confidence. He was inspirational.
Each person then undergoes a full skin examination looking for signs of sun damage and skin cancer. The combination of discrimination, poor visual acuity and class sizes of up to 200 means that many PWA do not complete their education. As a result, they work as subsistence farmers, fishermen or in other occupations where they work outside. This means they cannot escape the intense tropical UV light and develop actinic damage and skin cancers early in life. We see solar elastosis on the dorsum of hands in children as young as 4 and by the early teenage years it is often seen affecting the neck, the ears, face and feet. Actinic keratosis starts to develop in people in their late teens or 20s with skin cancer in late 20s or 30s.There was no structured skin cancer program for PWA prior to 2016 and when we go to a new area for the first time, we see significant sun damage and many skin cancers.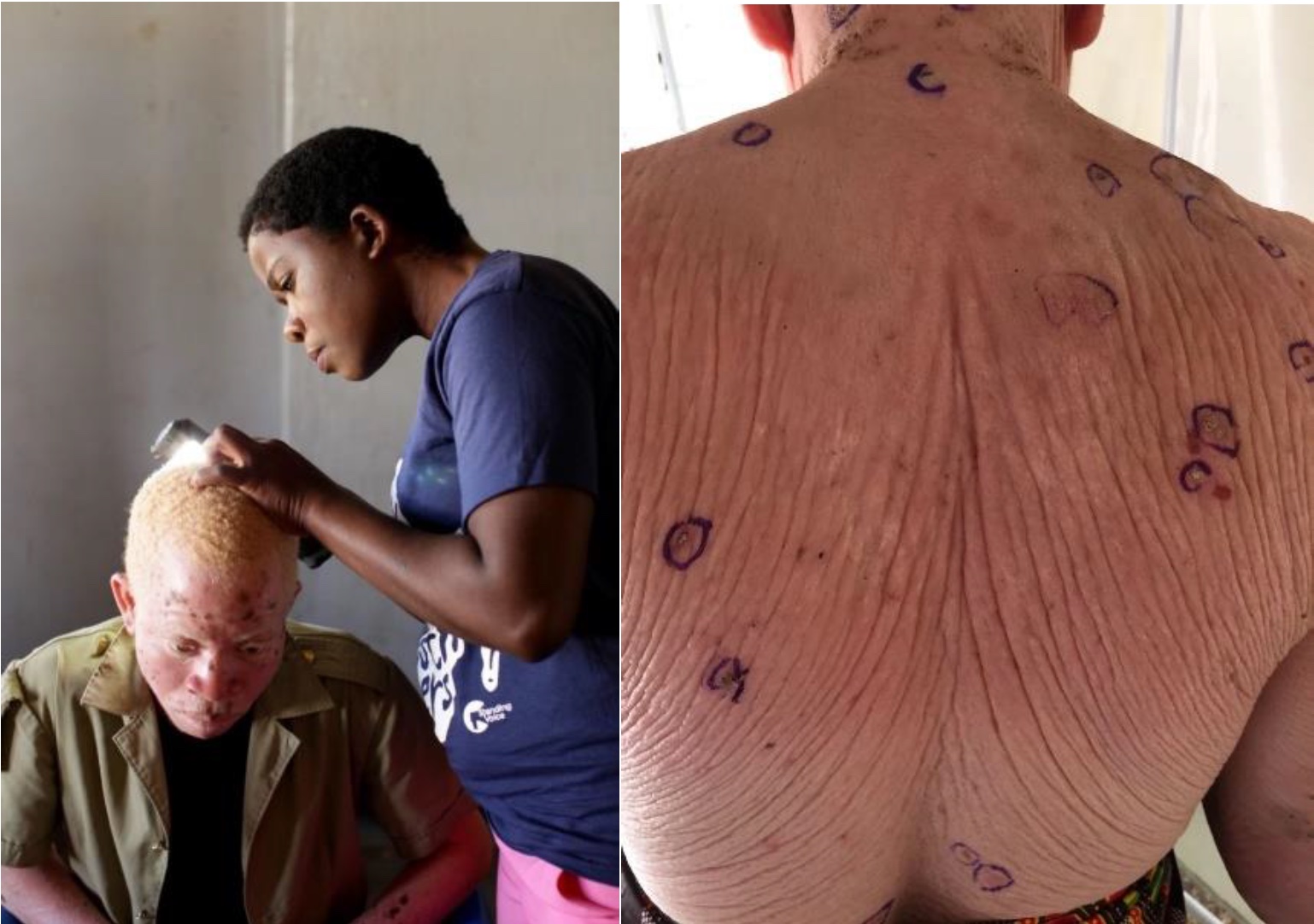 In this latest round of clinics, we registered 200 new people, 26 were referred for surgery for clinically diagnosed or suspected multiple tumours. One young man had 17 tumours present. Sadly, his case was terminal. With the huge pressure on medical services in Malawi thorough skin examination is normally impossible but our clinicians are trained to do this properly. Clinicians reiterate the educational messages encouraging helpful behaviours and pointing to improvements a person could make.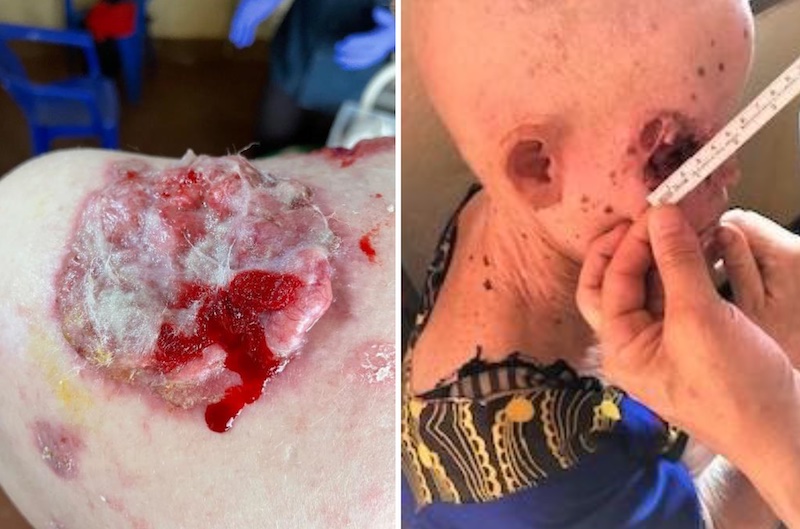 The CommCare tablet guides the clinician through the clinical examination which includes an examination of the skin and an assessment of the clothing the person is wearing. The clinical examination for babies and children is relatively quick however some of the older people (over 30's), can take a considerable time, particularly when multiple tumours need to be recorded and photographed and an appropriate treatment decided on. Attendees often have multiple actinic keratosis and, while it is possible to treat some of these with liquid nitrogen, sadly there are no effective treatments for widespread actinic damage or field cancerization. We prescribe 5% salicylic acid as a keratolytic, but we would dearly love to have 5 Fluorouracil to use in these situations
Suspicious lesions are referred for excision or biopsy.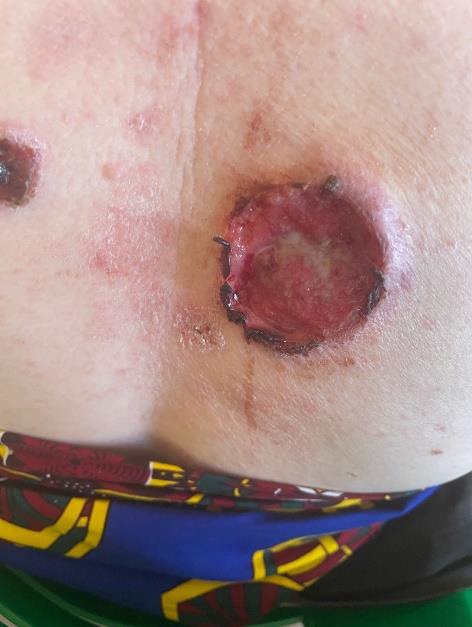 PWA then moved to the distribution area of the clinic. There they receive a 6-month supply of sunscreen and if necessary, a new broad brimmed hat. The message of prevention and early detection is further reinforced at this point and there is an opportunity for questions. Those who need excision or biopsy of suspicious lesions are also counselled in respect of the treatment they are due to receive, and arrangements are made to transport them to the hospital where the surgery will be performed. SV fund this transport.
Surgery
Surgery days are scheduled at district hospitals at the end of a run of clinics. The Ministry of Health again cooperated with us to make theatre space available. They also provide theatre nurses, sterile instrument sets, local anaesthetic and dressings.
There are big differences between operating in a District Hospital in Malawi and operating in Ireland. The large operating lamps attached to the ceiling never work and so head torches or Anglepoise lights are used instead. Last month in Mulanje the one mobile operating light on a stand was "borrowed" mid surgery, when needed for an emergency caesarean section in the adjacent theatre. The minor surgery packs provided by the hospitals do not contain the fine instruments needed for dermatology surgery and we have been unable to source these packs locally, therefore they are supplemented by instruments we bring with us.
There is a limited range of suture materials and again these are supplemented by donations and purchases from Ireland. Hospitals do not or cannot buy packs of sterile gauze, instead large rolls of gauze are wrapped around boards which are then cut into squares before being packed and sterilised. Premixed local anaesthetic with adrenaline is not available and instead this is made up prior to operating in the correct proportions.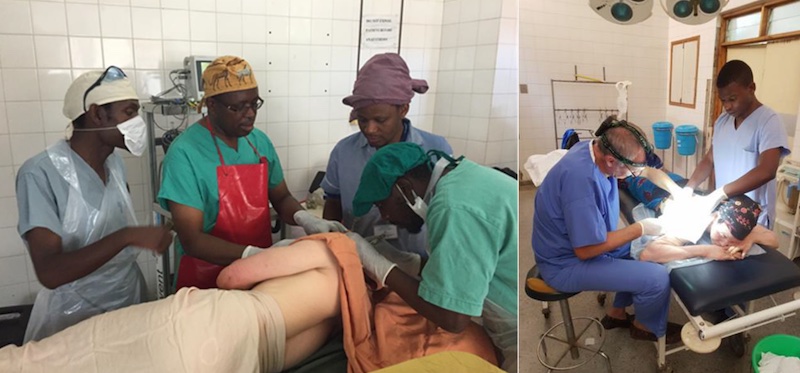 Cautery machines are also not routinely available in district hospitals and recently SV acquired our own Bovi hyfrecator. I have seen amazing surgery by skilled clinical officers dissecting huge lipomas without any cautery.
On our most recent trip 20 cases were listed for theatre. We ran a major list in theatre and small excision list in a clinical room. We were very fortunate on this occasion to have the services of Ms Lucy Lester an SpR in plastic surgery based in London who was on a 12-month sabbatical in Malawi. She operated on the more complex cases and performed several full thickness skin grafts. When such plastic surgery expertise is not available, we must refer patients to the plastic surgeons in either the capital, Lilongwe or Blantyre where the College of Medicine is situated. Since the beginning of SVs work in Malawi, we have been supported in our work by Drs Tilende Chokoto and more recently by Dr Wone Bande, the only two plastic surgeons in the country. Unfortunately, many of these cases are delayed for months due to the other more acute workload of the plastic surgeons such as burns. It was wonderful on this occasion to be able to complete the treatment episodes on many patients without any delay. They are the only two plastic surgeons in Malawi and they are extremely busy and often not available to assist us.
The minor list was completed by 4:00pm but the majors list did not finish until 9:00pm. When we emerged from the operating theatre, I was amazed to find the entire hospital in complete darkness. There were no working electric light bulbs in any of the corridors or the recovery room and people had to navigate their way using the torches on their phones. It had been a long but extremely fulfilling day.
Pathology
In the past, specimens for histopathology were transported back to Ireland where the Histology departments of the Mater and Beaumont were very kind and generous in analysing these specimens. Over the last three years we have used the services of Dr Mulenga at Kamuzu Central Hospital. His laboratory is partly funded by the University of North Carolina and for a very modest fee he conducts the examinations. I review the results of the Histology in consultation with the Malawian dermatologists and further management is planned.
People whose tumours have been fully removed with adequate margins are notified and categorised as high risk on our program for more careful follow up. Those who had biopsy proven cancers or whose excision margins were inadequate or require further surgery are referred back to dermatology or plastic surgery as needed.
Next steps
In October last year, we received confirmation of a significant multi-year funding from the Pierre Fabre Foundation. This funding, which covers work in Tanzania and Malawi, will allow us to plan for the expansion of our program across the whole of Malawi. The funding, though significant, does not cover the full cost of the expansion program and comes with strict targets for expansion and development of the program that have to be met. Significant further fundraising will be vital if the final target is to be achieved.
In terms of the skin cancer prevention program, we would also like to consider a trial of Vit B6 to assess its efficacy in prevention and would also like to see better treatments like 5FU be made available.
To make the program self-sustainable we are exploring the possibilities of procuring the appropriate surgical instruments in Malawi. We are also working with another NGO to have sunscreen specially formulated for people with albinism produced in Malawi by PWA.
Unfortunately, we will continue to see PWA with advanced inoperable cancers at the first presentation. We collaborate with Ndyi Moyo, the only hospice in Malawi, and the local palliative care services to support those who have terminal disease.
The skin cancer prevention program is not the only task ahead of SV. We also intend to roll out a vision program. People with albinism suffer with visual problems and this greatly inhibits their participation in education and employment. The vision program, which will be linked to schools, aims to assess the visual acuity of people with albinism and provide low visual aids and spectacles.
We have already mentioned the discrimination that people with albinism suffer. This, combined with the fear of attack, has led many to suffer with PTSD and others suffer with a chronic lack of confidence. We have piloted a counselling program for people attending our clinics and a space to talk about some of these issues will be provided in all clinics in the near future.
We plan to support interventions to increase the employment opportunities of people with albinism and will also continue to advocate for the rights of people with albinism and also for the full incorporation of our program into the annual budget for the Ministry of Health.
Conclusion
In conclusion SV will continue our work in Malawi to achieve the goal of coverage of the entire country in the next five years. We are also committed to making our program more holistic to manage the multiple issues that face people with albinism.
I would like to thank the IAD for the travel bursary I received. We would also like to thank them again for their kind sponsorship of dermatology officer training at the RDTC in Tanzania.
I would like to recommend the annual CME meeting at the RDTC which occurs in January. This is attended by dermatologists from Tanzania, Malawi and other African countries with visiting dermatologists from the UK, Austria and the Netherlands also in attendance. The program includes fascinating lectures and presentations on dark skin and tropical dermatology. There is also a great social program and it all takes place in the shadow of Mount Kilimanjaro.
Dr Mark Wheeler FRCGP MICGP
---
Dr Cathal O'Connor
IAD Travel Scholarship Recipient 2022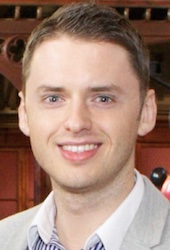 I was honoured to receive the IAD travel scholarship which allowed me to attend the European Society for Paediatric Dermatology annual meeting in Munich, as well as the virtual eczema update meeting organised by the Centre for Evidence Based Dermatology.
The ESPD, held in person for the first time since a great meeting in Dubrovnik in 2019, was hosted by Andreas Wollenberg and the local dermatology department. An incredible line up of international experts in paediatric dermatology filled two parallel sessions throughout the meeting. One of the benefits of post-pandemic conference life means that all sessions are available to watch back for two months following the meeting. Rudolf Happle opened plenary proceedings with an update on naevoid disorders, and was as witty and inspiring as ever. Other fantastic speakers discussed autoinflammatory syndromes, ichthyoses, atopic dermatitis, and systemic disease. Lisa Weibel's talk on facial dermatoses was particularly enjoyable, with a bar of Toblerone for the winner of her 'Last Man Standing' competition. Other memorable plenary lectures included Veronica Kinsler's excellent update on mosaicism, Ernesto Bonifazi's lecture on acrodermatitis enteropathica, and Antonio Torrelo's 'crucify your mind' session. Munich, the capital of Bavaria, was a phenomenal location for the meeting. As a conglomerate of European dermatology trainees we felt obligated to enjoy a stein(s) in the Hofbräuhaus, to immerse ourselves in Bavarian culture. We also made it to the Müllersches Volksbad on the final morning, a stunning public swimming pool in the middle of the city.
The IAD travel scholarship also permitted me to register for the 'Eczema evidence-based update conference' chaired by Hywel Williams. We heard breaking results from the BEE (best emollient for eczema) trial, the ECO (eczema care online) study, and TREAT (treatment of severe eczema in children) trial. Irish representation was strong: Sinead Langan delivered an outstanding talk on co-morbidities in adult eczema; Maeve Kelleher updated us on the SciPad review of emollients for prevention of eczema; and Conor Broderick pitched his SLEEP study. We also heard about over-diagnosis of milk allergy in infants with atopic dermatitis, which is a major ongoing issue. Other talks discussed the ongoing BEACON study and the HOME initiative.

Many thanks again to the IAD for awarding me this scholarship and making these opportunities possible.
Dr Cathal O'Connor
---
Irish Association of Dermatology Scholarship - Summer 2019
Travel Scholarship Report: Dr Angela Alani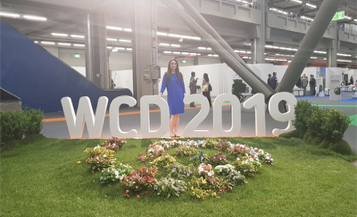 I am very grateful to the Irish Association of Dermatologists who have kindly awarded me this travel fellowship to attend the 24th World Congress of Dermatology in Milan, June 2019. This World Congress provides a unique opportunity for dermatologists around the world to come together every 4 years to share their clinical experiences and scientific advances on both a professional and personal level.
The congress was held in one of the largest conference facilities in Europe holding in excess of 16,000+ delegates. This was my first time at the congress and I was very excited to see such a rich mix of medical advances in dermatology ranging from clinical practice to research, technology and innovation. The programme was well organised and catered for the full spectrum of dermatological sub-specialties.
Delegates benefitted from regular email and World Congress of Dermatology 2019 app updates which provided information on meeting news, symposium highlights and breaking research. As I am interested in skin cancer, surgery, dermoscopy and medical dermatology, I focussed my attention on these sessions and attended pre-booked courses. I learnt a great deal during this Congress and felt inspired over the course of the five days.
In particular, I really enjoyed the session on advanced dermatological surgery which included talks by various specialists from across the globe including Argentina, Brazil, Germany, the Netherlands, Switzerland and the United States. These talks were very engaging and examined various difficult surgical closures along anatomical locations such as the nose, eyelids, eyebrows and ears. These sessions also considered surgical complications which I found very practical and informative.
As my own day-to-day practice involves regular usage of the dermoscope, I found Dr Giuseppe Argenziano discussion about "Can a dermatologist practice without dermoscopy" extremely useful. As dermatologists we have become very dependent on this valuable tool in diagnosing and differentiating lesions. Dr Argenziano provided an insight into how he identifies specific diagnostic patterns based on the distribution of colour in combination with various key dermatological structures to help distinguish between benign and malignant skin lesions.
Additionally, I also enjoyed the Teledermatology session which provided a glimpse into the future of dermatology with Dr Philipp Tschandi speaking about the applications of Artificial Intelligence. Artificial Intelligence is an evolving new area in lesion analysis and recognition using Convoluted Neural Networks (CNNs) for the early recognition of skin cancer and early detection of fast-growing melanomas.
Another interactive session was the management of skin cancer in immunosuppressed patients which was co-chaired by Prof Proby, who presented a talk on topical therapy for skin cancer in the context of immunosuppression. Other talks during this session focussed on systemic therapies, prevention and prophylaxis of skin cancer which were highly engaging and allowed for panel discussion and audience questions with input from learning specialists on their approach.
Overall, this was a fantastic trip and I left Milan full of inspiration and interest. I would like to thank the Irish Association of Dermatologists for awarding me this scholarship and making this learning experience possible.
---
2019 IAD Travel Scholarship Recipients
Dr Angela Alani
Dr Roisin Hambly
Dr Eilis NicDhonncha
Dr Muriel Sadlier
---
Dr Wedad Abdelrahman IAD Travel Scholarship recipient 2018

I was awarded the IAD scholarship to attend an international course on laser and energy based devices organised by the European Society of Laser Dermatology (ESLD). I have a keen interest in use of lasers in dermatological practice- attending this course proved an excellent experience and was indeed a great opportunity to learn from and network with experts (Dr Hans-Joachim Laubach and Dr Ashraf Badawi, president and vice-president of the ESLD) in the field of laser use in dermatological conditions.
The course kicked off by covering classification of lasers, different chromophores, laser physics and fundamentals of laser safety including the importance of eye protection for both the operator and the patient, skin cooling and measures relating to room set up which must be taken into consideration such as avoiding reflective surfaces and flammable materials for cleaning etc. The importance of informed consent and taking photographs pre and post procedure were also highlighted- this is of utmost importance when dealing with patient complaints.
Throughout the course and as a group we discussed several case scenarios together and with help from course instructors I learnt the importance of observing for an end-point which is ultimately what will determine a change in parameter setting when treating for example vascular lesions or when using laser for hair removal. This is pivotal in order to ensure effective treatment is delivered with minimal adverse effects. The course also covered how ablative lasers can be used to treat scars and the different types of ablation that can be used- this was interesting as I had not had much knowledge in using laser for this indication before but with outstanding before and after results, I learnt how rewarding this can be.
Dealing with complications and complaints is challenging and can indeed be a stressful experience. Injuries stemming from cutaneous laser surgery were discussed with examples from experts highlighting how vital it is to have sound knowledge of laser safety, indications for different devices, written informed consent and being able to recognise over-treatment.
I am very grateful to the IAD for rewarding me with this travel fellowship and providing me with an excellent opportunity to attend this course organised by ESLD which has indeed enhanced my knowledge on laser and broadened my horizons
Wedad Abdelrahman
Dr Eimear Gilhooley IAD Travel Scholarship recipient 2018
I was awarded the IAD Travelling fellowship 2018 which afforded me the opportunity to undertake a 2 week clinical observership at St John's Institute, London. During this time, I attended a wide variety of general dermatology and specialist outpatient clinics across the Guy's and St Thomas' hospital campuses. These included specialist lymphoma, immunobullous, urticaria and hidradenitis suppurativa clinics. I encountered a number of interesting and challenging cases across these specialities, and I was fortunate to gain exposure to the rarer spectrum of cutaneous disease. The Consultants were very generous with their time and were excellent teachers; readily sharing their experience and perspectives.
I was fortunate to attend a number of dermatopathology sessions, gaining invaluable exposure to less common histopathological presentations which had been referred to the centre for specialist opinion. Furthermore, I was able to attend a number of multidisciplinary meetings including lymphoma and skin cancer, and weekly dermatology grand rounds and teaching sessions.
Also, I gained an important insight into the functioning of the NHS, electronic patient record and coding systems. Exposure to this different health system was beneficial and informative; I was able to draw a number of contrasts and comparisons between both systems.
My experience in St John's Institute was really positive, I saw a number of very interesting cases and learned a lot. I would to thank the Irish Association of Dermatologists for awarding me the travelling fellowship in support of my observership. And also to thank the Consultants, trainees and nurses in St John's Institute who contributed greatly to my learning and enjoyment of the observership.
Dr Aoibheann Flynn IAD Travel Scholarship recipient 2018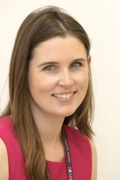 My IAD scholarship took me on two trips to London at the start of the year. The first was to attend the Royal Society of Medicine clinicopathological meeting. The morning symposium was titled 'Vulval disease for the general dermatologist'. This was extremely informative, with renowned speakers across the speciality discussing common conditions including lymphoedema, pigmentation, lichen scerlosus and lichen planus. Eduardo Colonje gave a fantastic talk on the pitfalls of genital histology, reminding us how varied it may be and the importance of clinicopathological correlation. Professor Creighton gave an insightful presentation on the global endemic of female genital mutilation, the growing trends of genital cosmetic surgery and how to manage patients with disorders of sexual development. The afternoon session at the RSM was the clinicopathological meeting, which never fails to captivate interest from attendees, stimulating fantastic discussion amongst experts. I had the opportunity to present two clinical cases from Ireland. Other cases presented in the afternoon included leprosy, heliotropic granuloma annulare, bullous dermatomyositis and porokeratosis psychotropica.
My second trip to London was to attend the renowned ABC Dermatopathology course at Guy's Hospital. This course was organised after a 4-year hiatus and I was delighted to hear it was back on. There were both dermatology and pathology trainees in attendance from across the globe. The venue was the Gordon Museum of Pathology; a beautiful historic building in the heart of London, filled with over 8000 collections. The three days covered a plethora of dermatopathology, while at the same time kept to basic principles and clinically relevant cases. Dr Christina Stefanato was fantastic, with her artistic description of skin pathology keeping us all entertained and making pathology seem easy. Needless to say, as an Italian created the course, the culinary experience was equally impressive. Topics covered included inflammatory dermatoses, vasculitis, adnexal tumours, granulomatous inflammation and infections. Each session was followed by a clinicopathological vignette, where we voted on the correct diagnosis electronically using our phones. This kept the course interactive and clinically relevant. It was a relief to know that at times the pathology trainees also found the histology challenging! Participating in this course has enhanced my dermatopathology knowledge, in formulating the basics of dermatopathology and mirroring these findings to the clinical setting. Dermatopathology plays an integral role in our practice, often leading the diagnosis and management for our patients. I would highly recommend this course to any dermatology trainee.
As Irish speciality registrars, we are fortunate to have such fantastic educational meetings close to home. I would like to thank the IAD for the travel scholarship, which gave me the opportunity to travel to London for these two training events.
Aoibheann Flynn
Specialist Registrar
South Infirmary Victoria University Hospital