Tribute to Dr. Paul Collins
A Personal Memory of Paul Collins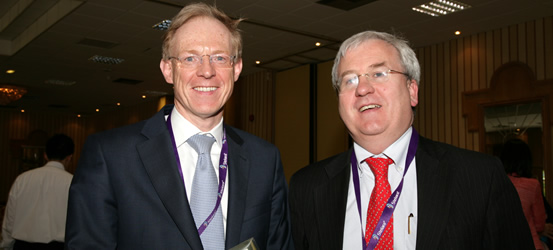 A famous American President once said: 'Character is like a tree and reputation like its shadow. The shadow is what we think of it; the tree is the real thing.' The shadow of Paul is that of a great clinician, teacher and researcher. The real thing was of an individual passionate for his specialty, enthusiastic, a great communicator and a great friend.
Paul and I were contemporaries and shared the same worries and struggles as trainees - presentations, publications, fellowships and interviews. We frequently presented at IAD's and competed at such events as the Jacob Medal. We exchanged accounts of research projects, case reports, fellowships, interviews and progress through the ranks to consultant level. We always enjoyed meeting up and having a drink and a yarn in the bar after a meeting.
Paul had a great interest in phototherapy and this was developed and enhanced by his time at the Photobiology unit at Ninewells hospital, Dundee. He was happy to share his knowledge and gave me many ideas for the setting up and running of a phototherapy unit – this was much appreciated. Paul was also very thoughtful. I will always remember the card he sent me when I was appointed as a consultant – I still have it. On the outside was a photograph of peaches and inside he wrote: 'Life was going to be all peaches for me from now on!' He was appointed to a consultant post 3 years later.
I am so sorry that the life of Paul has been so cruelly cut short. He will be greatly missed by all but his memory will live on not only in Deirdre, Patrick, Hannah and family but also in the hearts and minds of the Irish Association of Dermatologists.
Kevin McKenna
---
If you would like to your own personal tribute to be added here, please email Jacqui.
« Back to Latest News