2018 EADV Fellow scholarship recipient Dr Ahmet Uğur Atilan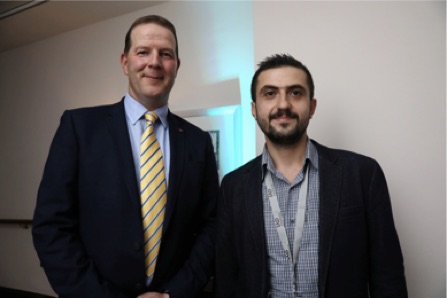 Dr Trevor Markham, IAD President & Dr Ahmet Uğur Atilan, EADV Fellow
When I learned that an EADV fellow would be elected to participate in the Irish Association of Dermatologist's autumn meeting with an IAD scholarship, I was very excited about the idea of getting together with my Irish colleagues at such a wonderful meeting.
I can't describe my pleasure when I got the news that I was awarded for the scholarship.
I was amazed by the excellent scientific content of the meeting as well as warmth and delicateness of everyone. The meeting made me feel at home.
I am grateful to the IAD for giving this opportunity to meet my excellent colleagues and the lovely Irish people.
It was an important step that broadens my horizons for my career. I believe that the connections I have established at this meeting will continue to increase.
« Back to Latest News